Rwanda aims to be a financial hub as an international financial center according to National Strategy for Transformation (NST 1) and Financial Sector Development Strategic Plan (FSDSP). FinScope Rwanda 2020 states that there are still 7% of Rwandans that are financially excluded, and the Government aims to achieve 100% formally served adults by 2024. In this regard RICEM and DSIK (German Sparkassenstiftung) developed a suitable Financial Education Program with the following objectives :
To improve financial knowledge, skills, and capabilities of the target group ;
To sensitize masses on financial institutions and consumer rights for responsible and inclusive finance ;
To contribute towards enhanced financial discipline and attitudes to influence behavior for achieving financial goals for well-being ;
To contribute to the creation of a financially informed population able to make proper use (uptake and usage) of financial services and products, and
To contribute towards achieving Rwanda's financial inclusion goals for inclusive socio-economic growth at individual and national level.
The program comes with interlinked importance's at different levels. Overall, the program increases the share of the financially literate population, which is able to take informed financial decisions and make better use of financial services and products for financial, economic, and social well-being. The importance is further broken down below at micro, meso and macro levels.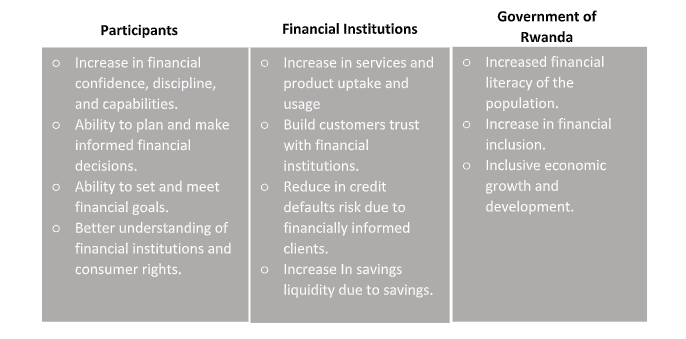 This RICEM and DSIK Financial Education program seeks to target rural and urban adults as end beneficiaries, divided into various sub-segments, like cooperatives and MSMEs with emphasis on women and youth. The target groups are mostly linked to the RICEM pillars especially the entrepreneurship and cooperative pillars.
RICEM and DSIK conducted the pilot phase done last year 2021, where 50 students form Gacuriro TVET Schools and 75 cooperatives members have been trained. The rollout phase is being implemented in the year 2022.